After just two short weeks o' football, I feel that the empirical evidence compiled thus far concludes but one thing - my beloved ACC
stinks like a whorehouse at low tide
. The case:
Wake Forest 14, Duke 13
Only a comedy of errors by the Blue Devils prevented this one from being a Duke rout (yes, I actually said a
Duke rout
, in reference to
football
). A fumble at the Wake 1-yard line that went out of the end zone for a touchback.....dropped balls on easy wide-open passes....Duke penalties on defense, right after a tidy INT return....a missed 27-yard field goal...a blocked 28-yard field goal at the gun. Wake didn't win; Duke blew this one. This was the worst coaching performance of Jim Grobe's tenure at Wake. The Deacons should've buried Duke but instead were saved by the Devils themselves.
Virginia Tech 35, North Carolina 10
Apparently 19 INTs in 2004 while at Nebraska wasn't a fluke for UNC QB Joe Dailey, whose real identity as internal saboteur was uncovered quickly in his second go-around at a major conference program. Two horrific picks against the Hokies destroyed Carolina scoring drives, leaving the much improved Heel defense in a major hole for much of the game. Hokies' QB Sean Glennon was a tad shaky, but was bailed out by the Hokie running game and special teams. Yes, they blocked a kick. Water is wet, the sky is blue, Tech blocks kicks. Rinse and repeat.
Akron 20, NC State 17
My oh my how the Wolfpack deserved to lose this one, just on principle alone. Down 14-10 with a minute to play, the Pack punched it into the endzone to take the lead, and then went berserk like a peewee football squad at a post-game Chuck E Cheese party, drawing the dreaded 15-yard celebration penalty. Approximately 0.78 game seconds later, the very accurately named Zips stood at the Pack 1-yard line, and seemingly ran it in to win at the gun, 20-17. The miracle of photography has since indicated that perhaps Akron didn't actually score, but the damage was already done. State celebrated far too much for taking the lead against
Akron
, and then let
Akron
march down the field like Sherman through Atlanta in about 3 nanoseconds. Chuck Amato has met his Waterloo, and thy name is Zip.
ah hell, close enough
Boston College 34, Clemson 33 (2OT)
Amidst the pungent debris of most of last week in the conference, this one came out smelling like a rose. First of all, both teams displayed basic and fundamental concepts of good offensive football, which was nary to be found in ACC-Land lo these past few weeks. When all was said and done, this one really came down to Clemson's having the ball 1st and goal on the Eagle 2 in the latter half of the first OT, and then promptly retreating several yards on the next 2 downs and settling for a Jad Dean field goal. Forget questionable officiating, blocked extra points, and such. The Tigers had the game on the BC 2 with a fresh set of downs, and folded. But many thanks to the Tigers and Eagles for a bang-up game and a measure of hope that all is not lost in the ACC this season.
Georgia Tech 38, Samford 6
Sorry Jacket fans, but y'all are in trouble. Reggie Ball has morphed completely into Chris Rix, while Patrick Nix has mind-melded with Jeff Bowden. The Tech offense managed to put up just 24 points on the scoreboard against 1-AA Samford, with the stellar Yellow Jacket D running two Bulldog INTs into the end zone for the difference. Tech is now the Coastal Division equivalent to Florida State, and I mean that as an insult.
Maryland 24, Middle Tennessee 10
Not much to analyze here. Sam Hollenbach was his usual unspectacular self, although with no picks on the stat sheet. Lance Ball and Keon Lattimore look to be a nice 1-2 punch in the running game, while unfortunately the receiving corps is so uninspiring that I couldn't even tell you who the two starting Terp WRs even are. Hell, even the AP beat writer was searching for something,
anything
, to write about regarding
this game
. I've read longer recaps about the local Rotary Club pinochle prelims.
Virginia 13, Wyoming 12 (OT)
I'm pretty sure there was an even lower scoring OT game somewhere in recent NCAA history, but certainly not one more boring. 6-6 at the end of regulation. Just over 200 yards total offense for the Cavaliers
in an overtime game
. The lone bright spot for UVA was the defensive performance, holding the Cowboys to just over 300 yards after Pitt dominated the Wahoo D like Dave Wannstedt groupies at the Annual Kick-Ass/Take-Names Mustache Convention.
Miami 51, Florida A&M
10
Quite possibly the two most intriguing stats you'll see all year....Miami increased their rushing output by 16,950% from the Florida State game (339 yards vs. 2 yards), while Florida A&M ran for 8,900% more yardage (89 yards vs. 1 yard) than the Seminoles did against the Canes. Math is cool.
Florida State 24, Troy 17
Troy 3 - Florida State 0
,
at the half. Troy 17 - Florida State 10, mid 4th-quarter. In Tallahassee. Granted, Troy beat Missouri handily in 2004, and took LSU to the wire in Baton Rouge that same year, but something is so very wrong with the Florida State offense, the 119th rated (out of 119 for those keeping score at home) rushing offense in terms of yards per carry. That's 0.9 yards per carry, or
32
inches
per rush. If Drew Weatherford just fell forward every down, that would surpass the current FSU output. This is the result of the spring and summer running game crash course headed up by Jeff Bowden? And Florida State University actually
has
a nepotism policy, which athletic director Dave Hart - to his everlasting regret and shame - allowed Bobby Bowden to circumvent when St. Mark Richt The Competent departed for Georgia. Although the Nole D got sliced and diced a bit too much by Trojan QB Omar Haugabrook, they slammed the door in the 4th quarter, setting up the go ahead score with a Buster Davis INT. I'd pay mad money to see a Mickey Andrews-Jeff Bowden cage match.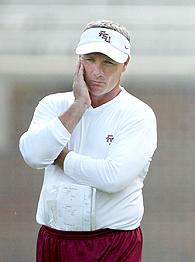 Fredo mucks up yet another weekly family business venture
And with this, I close the book on the first two horrid weeks of the 2006 ACC football season. Let us never speak of this again.